Title: CRUZ'IN Classic Car Show
Post: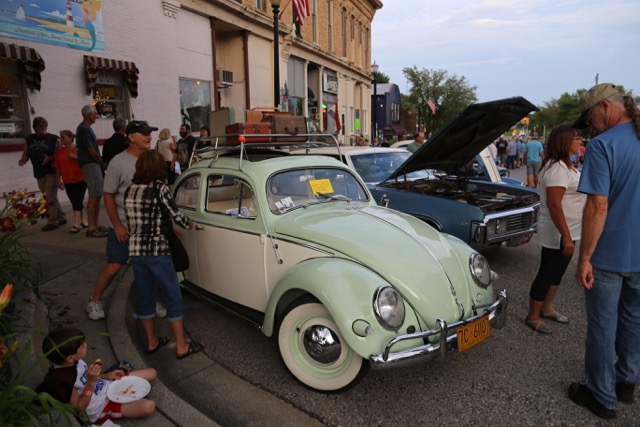 It has been a hectic summer to say the least- but I finally made it to the CRUZ'IN Classic Car Show a couple of weeks ago. This use to be on our summer to-do list but we had not made it for a few years.
Cars cruise from Whitehall to Montague, a very short mile or so, where they end up on display in the downtown area.
The cruise is more of an automotive enthusiasts parade. A massive number of people line the streets, wave, take pictures and encourage the hot rods to do burnouts. To avoid a ticket, many of the muscle cars rev their engines, hinting at the potential power just waiting to be unleashed. Usually the order of cars is "luck of the draw". So you may be following a vintage classic or a custom. All cars have to be a certain vintage- 1978 or older (I think). They don't seem to be super strict.
The lead up to the event had a bit of drama. After working hard all day, I decided to go. Terrie was too tired, so Oliver and I set out. We made it about 10 miles when our fan belt broke - AGAIN. This was a properly adjusted, new belt. (I will have to put some serious thought into this problem.)
I called Terrie for some rescue tools (I had several spare belts,) but as I am a slow learner, left the tools home. While waiting, I scrounged up a pair of pliers. I effected repairs and we were on our way- another 20 or so miles.
The cruise was a blast- everyone loved Oliver's super hero outfit and enjoyed seeing the bug. We managed a great parking spot, ate pizza and ice-cream and checked out some awesome cars!
Of the over 400 cars I only saw 3 or 4 Volkswagens!! A Thing, Bus or two, and my Beetle!!?? Next year I will try to get the word out and have an Air-Cooled Preservation Society presence. It truly is a great night out!!
We headed home in the dark- my iPhone took me the Looooong way. It was a bit disconcerting given the broken belt business and the 2 candle power, 6 volt headlights.
But we made it- and have some great ACPS memories to get Oliver and I through the long, cold winter to come.